Oftentimes, it might seem to the expecting mother that her pregnancy is endless. However, a couple of years after childbirth this period will be perceived as one moment. Photographers can help stop time for a while and convey all the love and worries of parents who are eager to welcome their baby into this world.
14 interesting ideas that can help you create wonderful photos and capture this special period in a woman's life. By the way, the ideal period for a photo session with a noticeable and rounded tummy is from week 28 to week 35 of the pregnancy.
Idea #1: In nature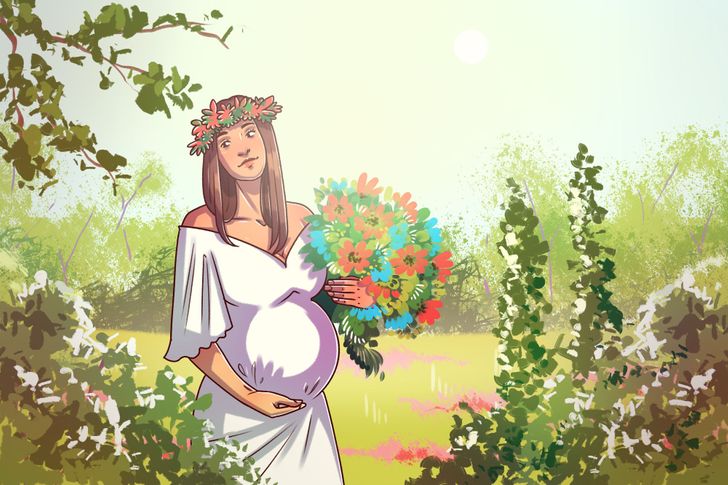 Take some pictures with nature in the background. It can be a snow-covered forest in winter, a park alley covered with leaves in the fall, or a flowery meadow in spring and summer.
You can collect a flower bouquet and take a picture of it located near your tummy. Or you can make a wreath and take several photos in a romantic look.
Idea #2: Seascape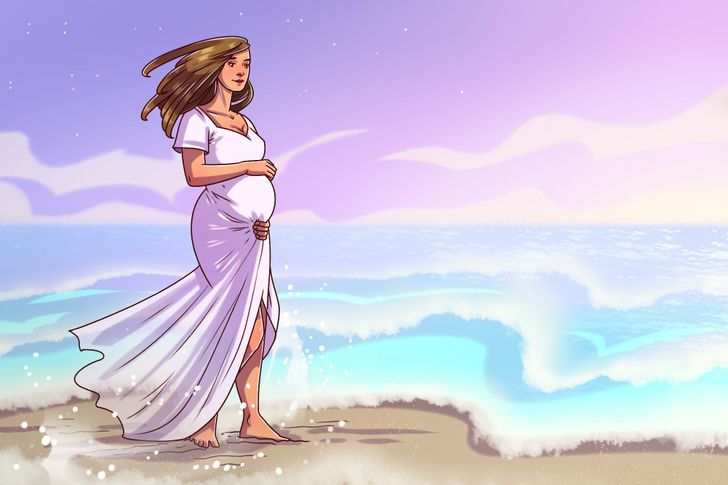 If you live by the sea or are on a sea vacation, use this moment and take some photos with waves and the sunset in the background. A long white dress made from a light fabric will help you create a tender look.
Idea #3: Silhouette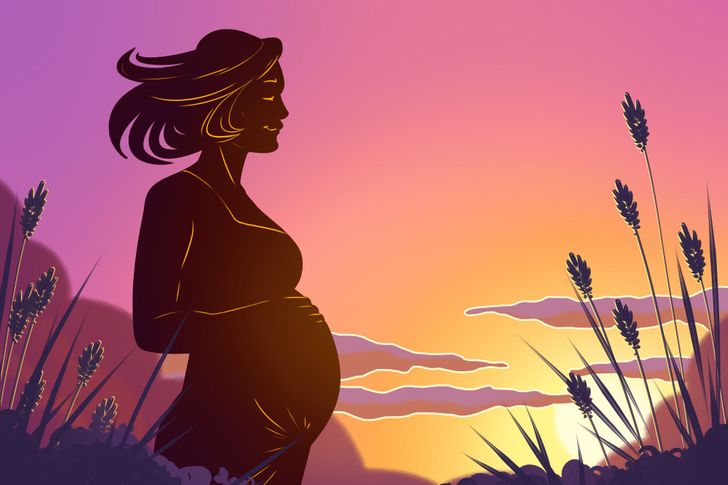 Photos taken in a silhouette are both simple and charming. Ask the photographer to point the lens toward the sun during sunset, and stand in the foreground. The focus of the camera should be on the background. As a result, you'll get a nice photo of your silhouette with a protruding baby bump.
Idea #4: Expecting for a miracle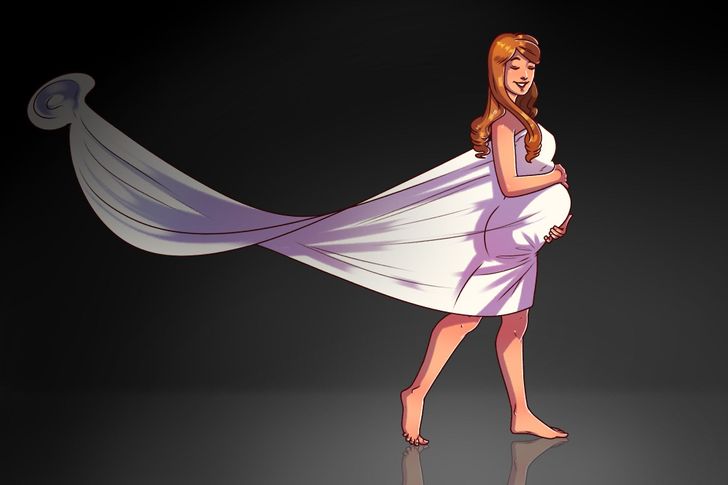 If the weather doesn't allow you to arrange a photo shoot in nature, you can always go to a studio. One of the classical ideas is your profile in a flowing garment that enhances your belly and creates the effect of airiness thanks to a flowing train.
Idea #5: The first photo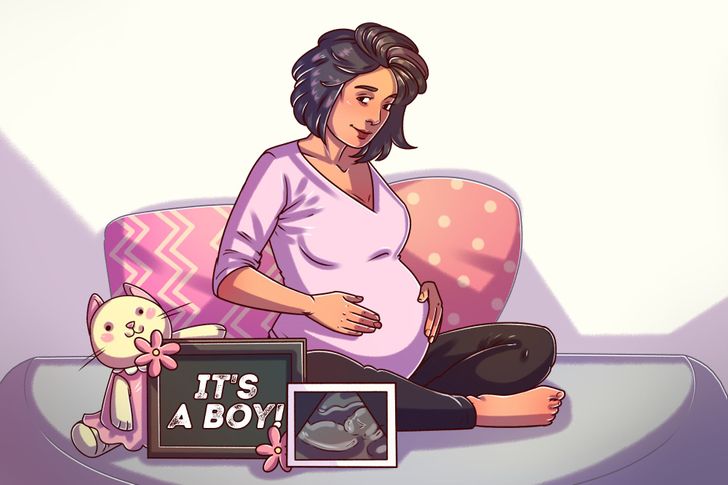 An expectant mother with the first photo of her baby in an ultrasound scan is another great idea for a picture. Place your rounded tummy, a soft toy, and a photo of the baby in the frame. Then add another important detail next to you — a sign on a chalkboard or a panel. It will reveal the main secret as to whether it's a baby boy or a baby girl.
Idea #6: Body art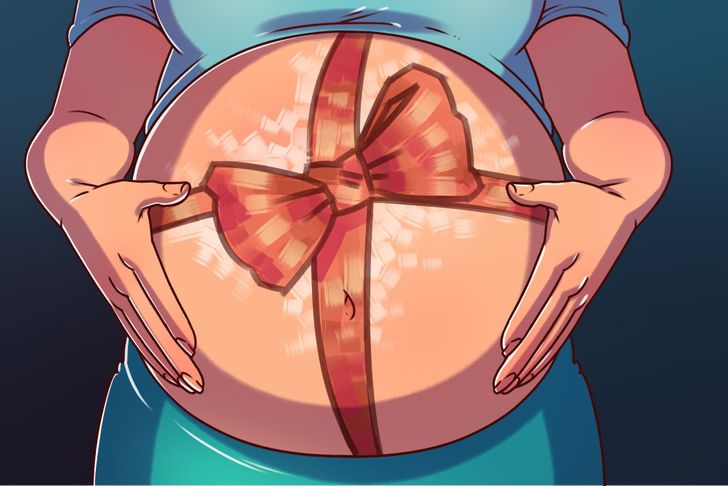 You can take an unusual and memorable photo with your tummy if you first paint it with bright colors. Seek help from a body-art artist who can help you create an unusual composition for your photo album.
Idea #7: "Now I can eat everything!"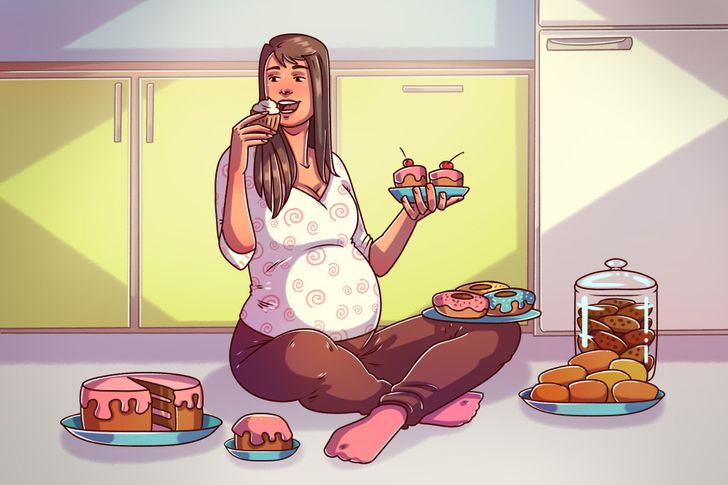 Add some humor to the photo: place different pastries, sweets, and other "forbidden" food around you and create a photo with the message that pregnancy is not the time for diets and food restrictions.
Idea #8: Happy couple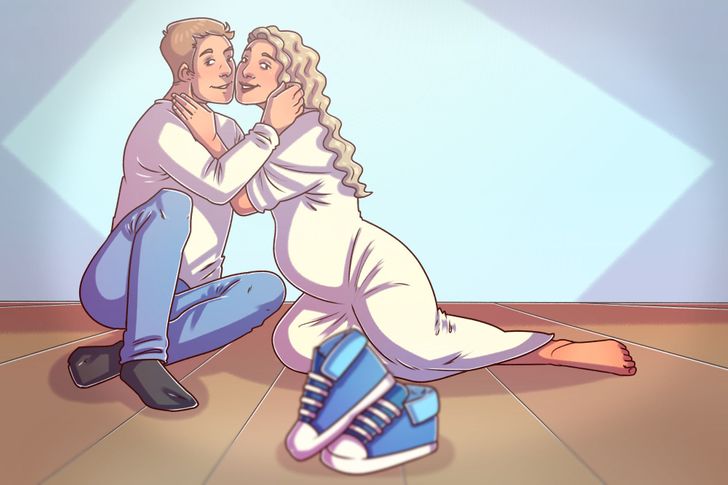 Take a photo together with the future father. Baby shoes in the foreground will complement this touching composition.
Idea #9: Holding hands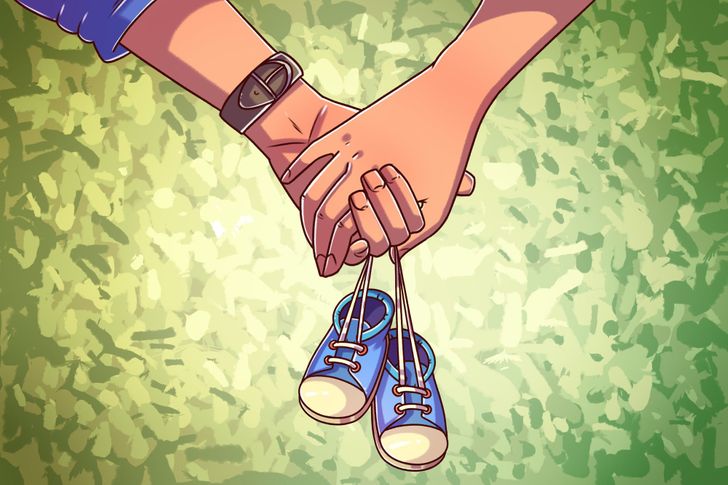 Baby shoes can become the center of another composition where the expectant parents are holding them in their tightly clasped hands. This photo symbolizes a strong family bond and the readiness of the couple for the appearance of their baby.
Idea #10: We are together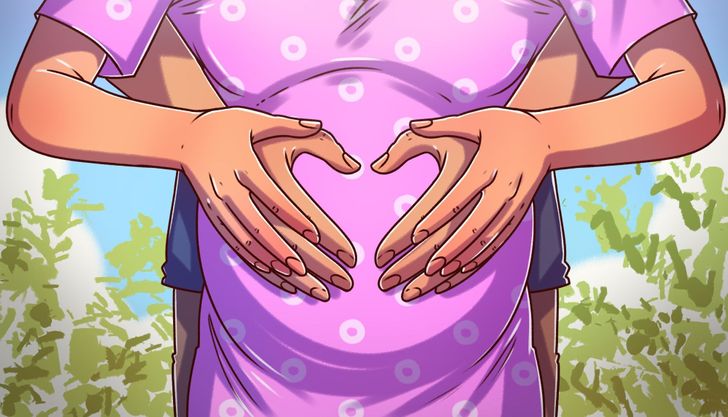 Another option for a tandem photo is when the expectant father is hugging the mother of the baby and tenderly places his hands on her tummy. The color of the mother's dress can become a unique accent. Put on a pink dress if you are expecting a baby girl and a blue one if it's a baby boy.
Idea #11: With the older sibling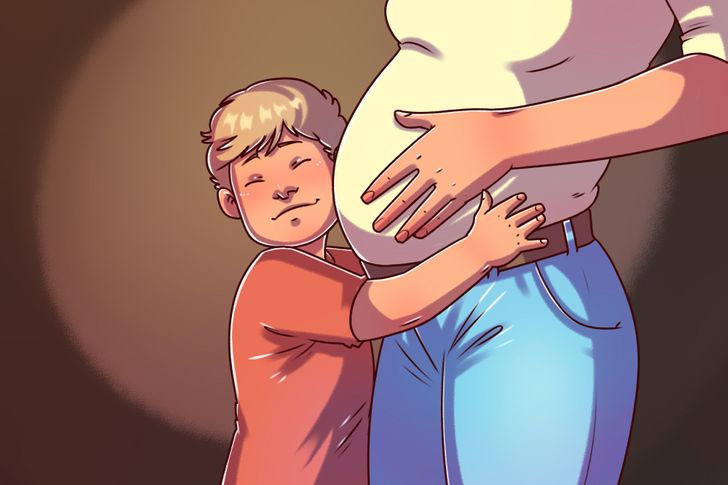 If there is an older kid in the family, take a sweet photo where they are hugging your baby bump, showing how eagerly they are awaiting the appearance of their younger sibling.
Idea #12: When each family member was born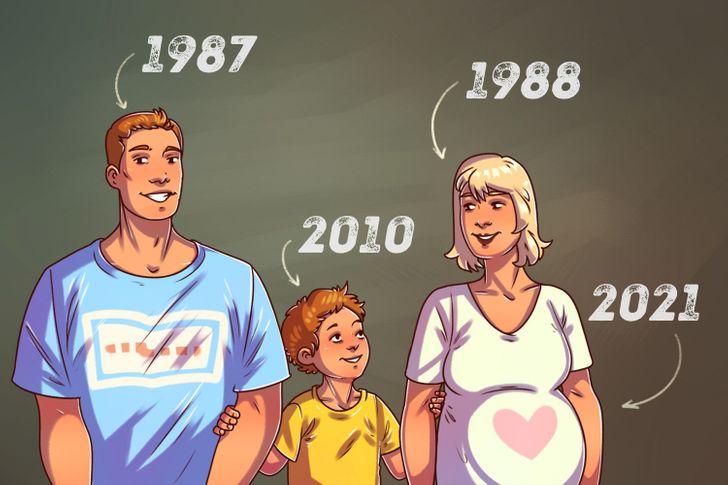 Take a photo with a chalkboard in the background where the birth year of each family member will be written. The latest date will be the year the baby is due. Let an arrow from this date go straight toward the tummy.
Idea #13: With a pet
Your lovely pet is also a family member. Engage them in the photoshoot as well. Take a close-up pic of your baby bump with the expecting father's hand and the fluffy paw of your pet on it.
Idea #14: 9 months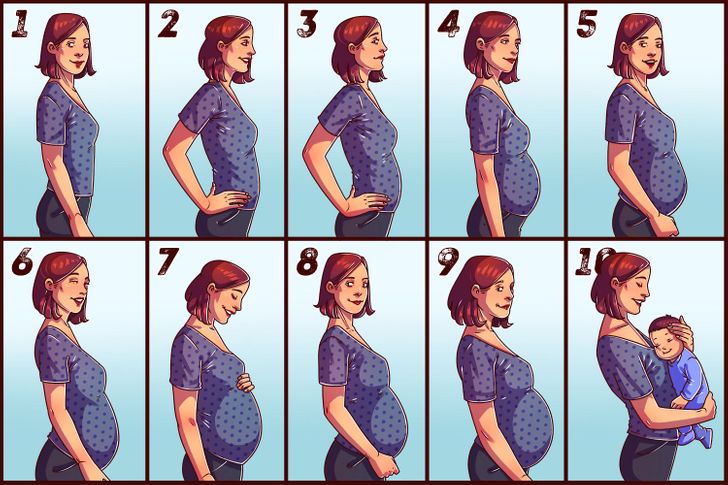 If you were lucky enough to find out about your pregnancy at an early stage, try making an original collage and capturing how the baby grows in the belly. Get ready for it: choose one well-lit spot where you'll take a photo every month. Then choose your outfit — it should be the same in all of the photos. And finally, take a photo at the end of every month of your pregnancy. The last photo will be with the newborn baby.